With summer in full swing, the NBA Finals going on, and Man of Steel finally being out in theaters, it's easy to forget the real problems in the world. 
But perhaps nothing is more heartbreaking then the ongoing oppression of Texas A&M quarterback and reigning Heisman winner, Johnny Manziel. 
For those of you who don't know, in his troubled times, Johnny, a true master of social media,  tweeted out his 
frustrations Saturday night.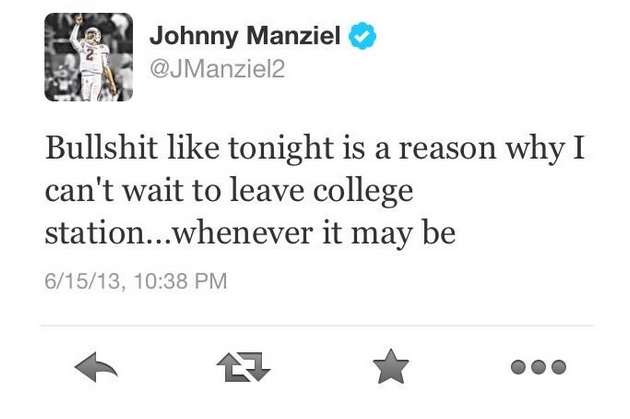 I know what you're thinking. How hard can the current Heisman winner's life be? I mean he is in college, which we all know is the worst time in every person's life. So before we rush ourselves into too much judgement, let's examine why it ain't easy being Johnny Manziel. 
First off, can the haters please quit hating? You don't know what Johnny went through Saturday night that made him tweet this. Maybe he had to wait in line at Dixie Chicken, maybe his dad didn't invite him to Game 5 of the NBA finals, or maybe his neighbors keep stealing his WiFi.
Whatever it may have been, it was the straw that broke the camel's back in what's been a grueling year for Johnny Football. 
Part I: A Tough First Season. 
Poor JFF. No one gave him any credit this year. 
After a late night scuffle and overnight stay in the jailhouse about a year ago, Johnny's life only got harder. He was named the starting quarterback as a redshirt freshman in A&M's inaugural season in the world's best conference…the SEC. 
After a dogfight loss against SEC-cupcake Florida, Johnny and the rest of the Texas A&M football team exceeded expectations and won their next five games in an impressive fashion. Most notably was the 59-57 victory against Louisiana Tech. While the rest of his team played fairly sloppy, Johnny threw for 395 yards and three touchdowns and ran for 181 yards, including a thrilling 72 yard touchdown that would end up being the score his team needed to edge out the Bulldogs. 
If that wasn't bad enough, Manziel's beyond impressive 576 total yards, which broke both team and SEC records, catapulted him into Heisman contention. 
After a gut check loss to LSU, another SEC cupcake, things once again got harder for Johnny as he proved his resiliency and pounded through Auburn and Mississippi State. 
Despite these hardships, nothing was worse than when he beat the 2012 National Champion Alabama Crimson Tide 29-24 on November 10th, solidifying his realistic shot at becoming the first freshman Heisman trophy winner. 
But sadly, no one gave poor Johnny any credit. Like the The Great Gatsby or Blade Runner, sometimes a work of art is taken for granted in its respective time. Maybe the world wasn't ready for Johnny Football yet. 
To give the doubters credit, beating Alabama on the road isn't all that impressive. The stadium only holds 101,000 screaming lunatics. 
This is the same Saban-era Bama team who has lazily put out Three National Titles in Four years, 2 conference titles, 16 consensus All-Amerians, and one Heisman Winner in the last six years. 
Wow. John. You're really putting the sports writers of America to sleep. 
November 17th was sure a day to forget in the life of JFF. Up 40-0, JFF missed a key field goal against 1-AA powerhouse Sam Houston State. The devastating miss would haunt Johnny forever. 
Even other football teams gave JFF no respect
. 
Collin Klein and Kansas State selfishly waited until November 17th to get blown out and upset by Baylor, pretty much ensuring a JFF Heisman victory. Thanks Obama. 

Then came a miracle. Through the fires and through the flames, Johnny rose from the ashes and was awarded the Heisman trophy.
 Despite, rightfully winning it…Johnny got little love from the haters once again as they felt Manti T'eo and his soon to be 'Lifetime'-original-movie story should've won. 
The Aggies were obviously screwed out of a BCS bowl and had to settle with the Cotton Bowl. 
Manziel (barely) avoided the Heisman slump and beat Oklahoma 41-13, racking up a measly 516 total yards and four total touchdowns against the Sooners. 
Sadly, the media overlooked this yet again. Much like they overlooked Katherine Webb during the National Championship. 
In addition to leading the Aggies to arguably their best season off all time and soaring past expectations, it was truly a rough year individually for JFF as he had not only the best season all time for a freshman, but possibly one of the greatest individual seasons all time.  
Part II: The Hell and the Aftermath. 
As if winning the Heisman trophy a day after your 19th birthday wasn't hard enough, JFF has gone through numerous hardships off the field. 
First off, he had a horrible birthday. 
Please. Stop. Hating.
Second, Johnny got this POS for one of his Christmas gifts. 
A Rolex? C'mon, Papa Manziel. Everyone knows a Heisman winner needs to at least be rocking a Patek Phillipe. 
And if that wasn't bad enough…
…his dad didn't get him the Maybach and JFF had to settle for the modest C-Class. 
Using what little scratch he had, JFF also developed a very dark gambling problem. 
Brace yourself…Winter is coming. 
I don't think JFF watches GoT, but if he did…I think he'd share the Westeros' pain of the hardships of winter…
Being pigeonholed as an athlete, Johnny was forced to attend the Super Bowl and numerous NBA games…including the All-Star game. The horrors of celebrity status forced Johnny to sit courtside with his model girlfriend. Adding insult to injury, he had to meet and become friends with NBA C-Listers LeBron James, Kevin Durant and Chris Paul. 
Even outside the sports world, he couldn't catch a break and had to party with Rick Ross, hit up Mardi Gras, and meet Megan Fox before Letterman. 
Timing doesn't seem to be JFF's thing either. As he was travelling the country, JFF's super corporation, JMAN2 filed a lawsuit against some douchebag A&M fan selling 'Keep Calm and Johnny Football' t-shirts. 
In a very
Social Network
fashion, Johnny and his family, going through hard times, rightfully spotted this as a billion dollar venture and decided to take action. 
Who knew 
Eduardo Saverin went to A&M?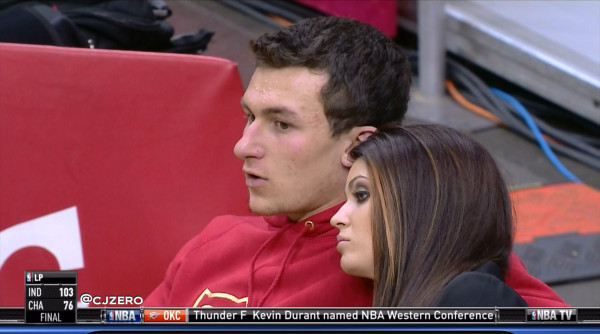 …and as the days got longer and warmer, life only got tougher for JFF. 
The daily grind of going to class is just too hard when you're a Heisman winner and JFF was forced to take online classes from the comfort of whatever third world atmosphere he was likely in. 
To abate this stress…he went to Cabo, a place that rivals the war invested border-towns as somewhere you don't want to be in Mexico. 
While he may look happy in this picture, I can assure that like any Smiths/Morrissey song…he's only filled with pain and sadness. 
The haters continued to kick Johnny while he was down. But like any true warrior, he stood his ground…
#blessed
It's fair to say that Jesus would agree that the true meaning of blessed is being born into money and going to All-Star games. 
He also has clever comebacks…
Then like Stallone in Rock IV, Johnny decided to go abroad and train. But instead of the cozy winters of Siberia, Johnny trained in the harsh spring of Southern California. His only refuge was getting to play the torn and frayed golf course, Pebble Beach. 
Johnny could also not seem to pick a baseball team this season. Between wearing Padres, Yankees, and Rangers hats…Johnny's downfall has also resulted in an inability to make up his mind. 
More recently, Johnny's basketball team, the universally adored Miami Heat, is on the verge of losing the NBA Finals. 
Despite all this, nothing could have been worse than whatever made Johnny tweet this on Saturday… 
The great Everlast once said:
"God forbid you ever had to walk a mile in his shoes
'Cause then you really might know what it's like to sing the blues" 
I couldn't agree more. In a song that includes the problems of homelessness, a woman who is cruelly ostracized for getting an abortion, and a man who loses his life to gang violence…Everlast should really consider a re-release and adding a fourth verse for Johnny. 
Through his awful 2012-13, I just hope we can all humble ourselves and take a moment to think of Johnny…because it seems no one is paying attention. 
Coming soon-Part III: Hope and Regime 
---
---
Categories: College Football, On The Field: Sports